Iz
& I celebrated our 1 year wedding anniversary this weekend by taking a mountain bike trip to Oregon.
We took off Friday morning about 10a from Coquitlam and headed south. The border crossing was as expected, under an hour, and only two questions asked!!
The traffic through both Seattle and Portland was disgusting. It ended up turning what we expected to be about an 8 hour drive into nearly 12!!
We arrived in Oakridge about 9p, and met with Randy of
Oregon Adventures
... at the McDonald's: hey, they had free WiFi! He led us to what would be our campsite for the next few nights. A great spot near the river on some private land. Thus the only folks camping there were folks on the tour! Our group consisted of Julie (from Vancouver) & Naoko (from LA) who were doing a 5 day tour, joing us on their day 3, our day 1, plus Beth (from Australia), Brett (from Rhode Island, Kurt (from Tacoma) and us.
Camp was pretty rad
Saturday we were up at 7:30a, eating breakfast around 8 (yummy French toast, thanks Dave) and got rolling to the trail head by just after 9, arriving and dropping in just before 10a.
Our first trail was a 99% downhill funfest called 'Moon Point'. Fun is an understatement. So much smiling, it was just great. Loose, sandy, mellow descending is a blast: going as fast as you can/want is the name of the game on this trail.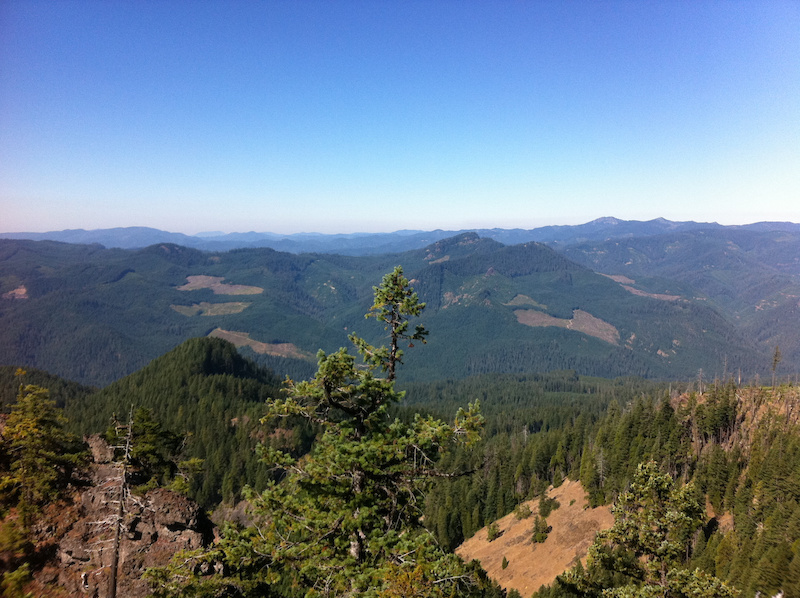 View before dropping in to 'Moon Point' trail
Rolling across the meadow before dropping in
Our next trail was a bit more pedaling, but oh so worth it. Ultimately a loss of elevation means you're having more fun going down then you have working uphill. The trail was named 'Middle Fork' and is a flowy fun rolling trail running along the Middle Fork of the Willamette River - hence the name. The only thing that wasn't fun about this trail was Iz & I being stung a combined 7 times!! We followed Brett over a wasp nest apparently. No good!! Lunch was trailside about 1/2 of the way down 'Middle Fork' set up by Paula. It was a feast!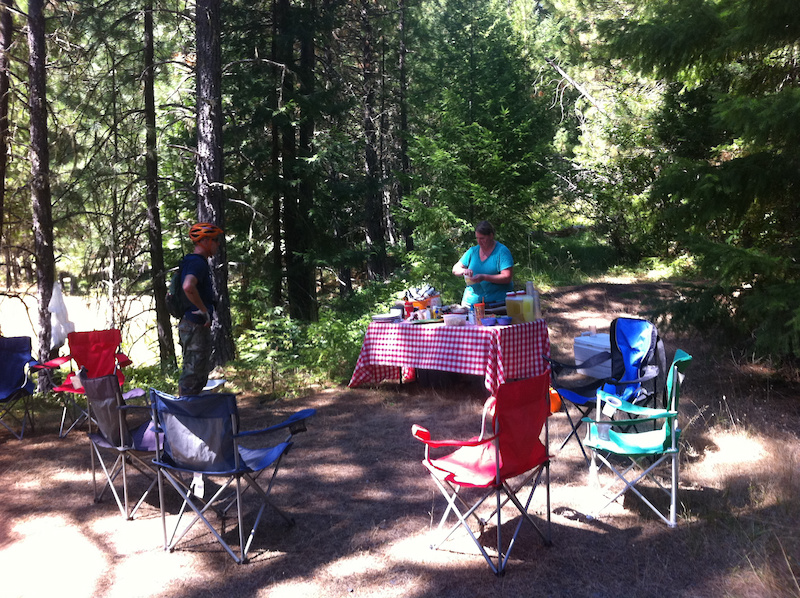 All rides should be trail side served like this!
Total on bike time on Saturday was about 4 hours.
Sunday started off the same as Saturday - another delicious breakfast, and off to the trailhead for a 10ish start. Things went south though after we got our bikes off the roof.
When we got to the drop point, my bike was the last to be unloaded. Only to find that I had no rear brake. None. Nadda. Not your normal Avid brake pump issue either, it was plain not functioning. How could this be? It was working when I put it on the van? It worked yesterday!? Bizarre. We couldn't fix it.
Luckily Brock, one of the guides, was generous enough to lend my his. Sadly that meant he didn't get to join us. Though he admits he'd ridden the trails we were about to hit about 47 times.
With an operational brake now installed, we headed for the trailhead of 'Alpine'. It was a short pedal up the gravel road before we hit it. Then more up, but this time on nice, technical singletrack. Glorious singletrack it was. I don't mind this sort of climbing, when your mind is as engaged as your body. Actually having to pick a line and spin those legs.
We reached our peak at an entry to a meadow and dropped our seats. It was time to descend. Oh how we went downhill. So much fun!! Long, flowy sections with subtle curves and excellent sight lines into tight switchbacks. Then repeat. SWEET!!
A couple of the views....not bad
We got to the bottom, and climbed up again. We then took a turn up off the main 'Alpine' trail toward 'Tire Mountain'. A bit more climbing up over a ridge, and down we went again. This time a bit more turns on the way down, super fun and fast again until we hit another split at 'Clover Patch' where it was time for our last climb of the day.
Up and up we went. Our legs were pretty spent by now, but knowing it was our last measurable climb, we spun up quickly. Cresting the top was a stupendous occasion knowing that it was all downhill to the bottom.
Again, more fun, fast and nice and easy singletrack was ahead of us. Loads of visibility ahead, so going fast was easy, and did we go fast. When we hit the road where the van was awaiting, the tail guide Paul said that was the fastest he'd descended 'Clover' and that was seconded by the rabbit Hollis.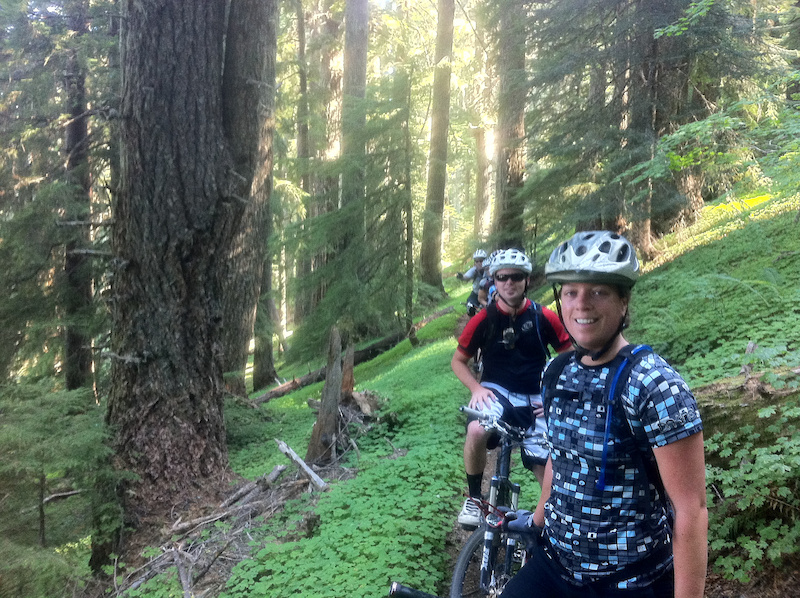 Hollis in behind Iz after a sweet decent
That was sure a lot more exercise than we did this same day last year. I guess we did do a lot of dancing, laughing, and even a bit of crying: but signing some papers, eating a great meal with friends, and ultimately getting married to my beautiful wife Isabelle, wasn't as exerting as this - what the locals call 'ATC'. Another 4+ hour day.
Monday was our last day of riding in Oakridge. Our day promised to be more down than up, riding a 'double' as they call it.
The day didn't start off super well as Iz got stung by a wasp again! This time as we were taking down the tent and packing the car up! Ugh, these damn yellow jackets are everywhere in this state!
The first trail was 'Lawler' which featured some amazingly fun curvy downhill on nice loamy dirt. Simply spectacular trails. Not technical, just high speed and fun!!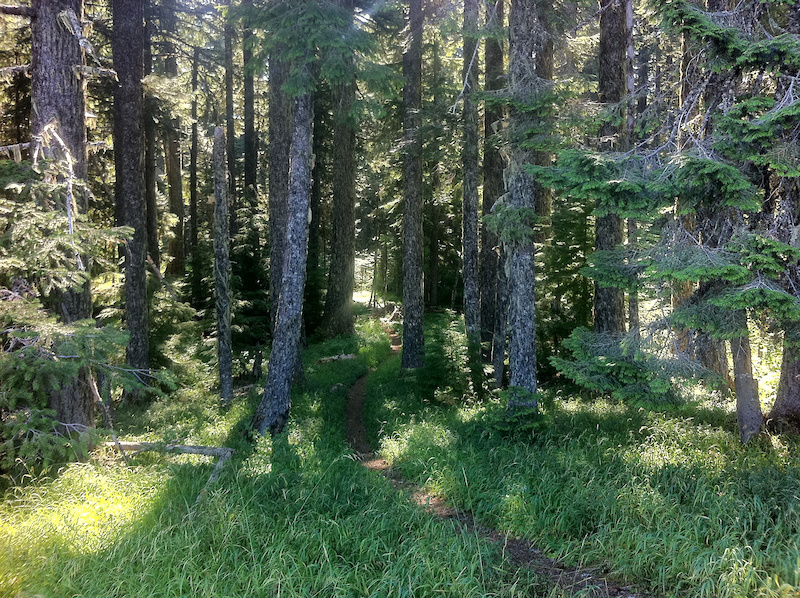 Just a taste of what these trails looked like
Lunch was waiting for us again at the bottom of the trail. The absolutely delicious homemade cookies by Paula were the biggest hit!!
We loaded up and headed back up to ride 'Hardesty'. The ride started out with about a 2 mile gravel road climb followed with about 1/2 mile singletrack climb to the peak. Around 1000' was ascended in that short climb.
Drop the seats, and it was all downhill. The lead guide was Hollis on his Giant Reign. His nickname 'Haul-Ass' was obvious - this kid could rocket downhill. I was following Kurt who had a little oops at one point letting Iz & I by. We ripped it up and caught Hollis, but only cause he flatted.
Brock caught up and the three of us opted to head off as a pinner group. We were bombing this trail, so fast, so fun. Brock and I hit the road and there was no Iz with us. "Uh oh" was my initial gut reaction.
Sadly it turned out to be true. After about 10 minutes Kurt came out to let us know she bit it. Apparently, Iz says, she got complacent with the straight runs to switchbacks and missed seeing a rare root, causing an unscheduled over the bars flight to the dirt. She smacked her knee pretty hard and re-aggravated a previous thumb injury.
She wasn't a happy camper, so Hollis took her down the road to the highway. Brock and I pinned it down the trail to the parking lot and I drove over to meet them.
Sure she was injured, but I think that it was her ego that' was hurt most. She shouldn't have crashed on that trail as it was pretty easy for us, all things given. Ah well. Live an learn - never get too comfortable, no matter how 'easy' the trail is. Speed makes any trail hard!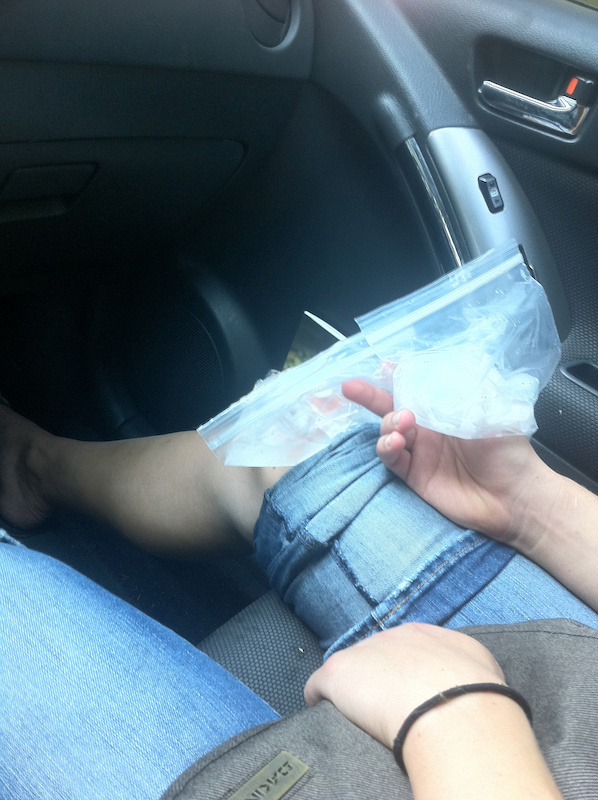 Icing the sore parts
The day finished off with a swim, and we headed off, exchanging emails with everyone and promising to meet up again sometime. A quick stop at the Woodburn outlets (number one tourist attraction in the state = sad) then dinner and a night in Tualitin. If ever here, I'd recommend the Country Hotel (bikes in room ok!) and attached Hayden's Grill restaurant.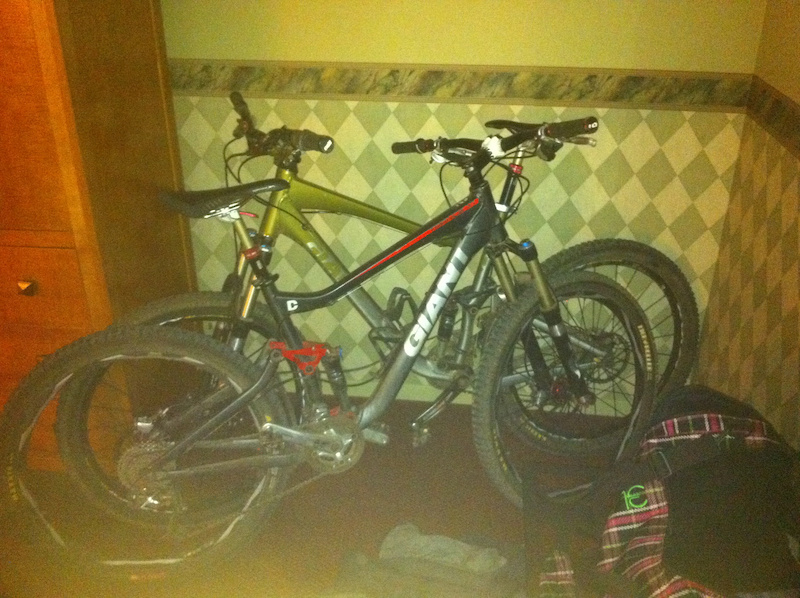 Bikes belong inside too
All photos from the trip here.